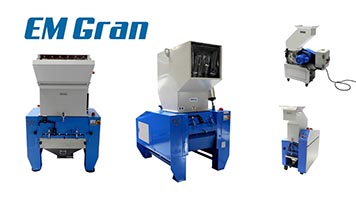 EM Gran Plastic Granulators
Machines for granulation different types of materials. EM Gran series of machines features many different models for different areas of application. There are in-line granulators for in house waste. They can granulate injection molding spures and runners. The EM Gran BA series can process larger items like plastic drums and barrels. While the RU series can process materials such as rubber. The PE series is for processing plastic films and smaller PET bottles. The MO series is able to process PVC pipes and profiles. The SL, SM, and SH series machines are all for inline process of injection molding waste such as spures and runners. They are low speed, medium speed, and high speed respectively.
Please contact us today to inquire about an EM Gran machine. We'll be happy to find the right machine to suit your needs.