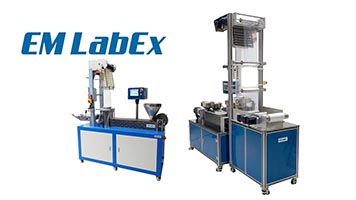 Buy a Mini Extruder produced by Euro Machinery ApS
EM LabEx series machines for lab extruders for testing batches of plastic extrusion pellets before large scale production. Lab Extruders can help you save money in a production environment by testing different types of material formations before going into production. You can save time, money and get a better end product testing films on a lab extruder. You have the ability to test newer materials such as bio-plastics and recycled extracts without the risk of slowing production down.
The EM LabEx Lab Extruders are currently being offered in two different models: EM LabEx25-1 and EM LabEx25-3, a monolayer and co-extruder respectively.
We invite you to take a look at the machines and contact us for more details if you are interested. We'll be happy to answer any questions you might have.